Listed below are various articles and books about Black Walnut trees and nuts. Most can be found online by clicking on the link. Books and articles not online can be borrowed from the NNGA library.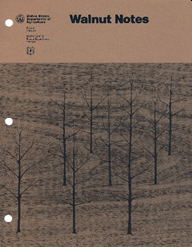 Walnut Notes
Lucy  Burde, Editor
Published in 1988 by the USDA Forest Service research unit in Carbondale, Illinois, this publication consists of thirty-one 2-to-4-page how-to notes on black walnut management. Their recommendations could be applied to establishment of other nut trees and high value hardwoods.  It has six sections including stock production, establishing the planting, maintaining growth and quality, nut production, damaging agents, and the business end. Most of the recommendations are still current.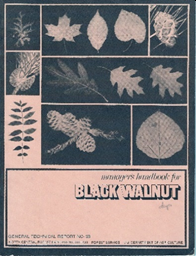 Managers Handbook for Black Walnut
David T. Funk and Richard C. Schlesinger
Published in 1977 by Richard C. Schlesinger and David T. Funk with the USDA Forest Service North Central Forest Experiment Station, this 22-page publication provides recommendations for managing black walnut plantations and natural stands and discusses all aspects of growing black walnut from planting to harvesting. Excellent concise guide for site selection, pruning, thinning, weed control, and fertilization.  It has a small section on managing plantations for timber and nut production.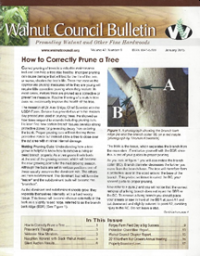 Walnut Council Bulletin
Various editors from 1970 to the present
Published since 1970 by the Walnut Council, this quarterly newsletter has covered most topics related to management of black walnut and other high-value hardwoods including nut production.  All past issues have been scanned and copied to a thumb drive that is available from the Walnut Council Foundation for $20 plus shipping and handling. Order the Walnut Council Literature Thumb-Drive, which contains hundreds of publications. Available from Walnut Council Foundation for $20, contact Ken Konsis at kenkonsis@aol.com or purchase one at a meeting.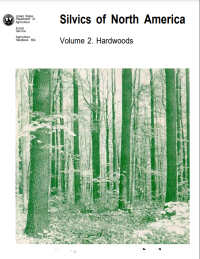 Silvics of North America Vol 2, Hardwoods - Black Walnut
Russell M. Burns and Barbara H. Honkala
Published in 1990 by Forest Service United States Department of Agriculture. Page 391 of the Silvics Manual contains general information for site requirements, site preparation, planting designs, plantation maintenance, natural stand management, etc.; however, there is little on nut production.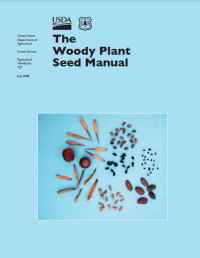 The Woody Plant Seed Manual
Franklin T. Bonner and Robert P. Karrfalt,
Published in 2008 by the United States Department of Agriculture, Forest Service. Starting on page 600, The Woody Plant Seed Manual provides information for Juglans species on seed collection, seed storage, seed stratification, and seed germination.